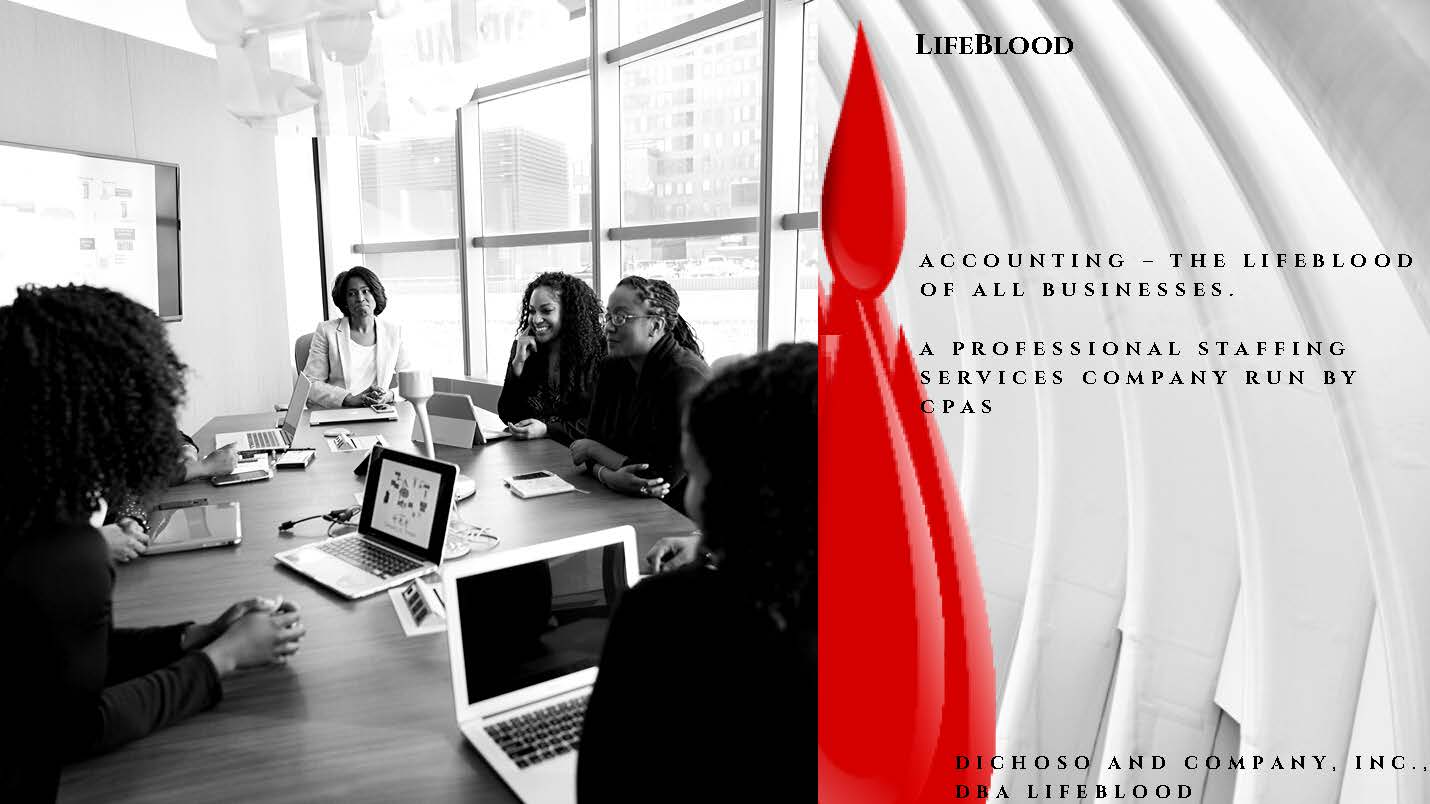 Professional Staffing Services
Accounting is the lifeblood of any business. It is the main factor that determines whether a business succeeds or fails. And no business will succeed without proper accounting in place. So if you are serious in succeeding in your business, here is a list of reasons why you should hire a professional accounting staff to perform the accounting duties of your business:
Pre-Tested and Pre-Screened Professional Personnel. Accounting is a profession in of itself, governed by its own accounting laws and regulations. This is why we hire our own team of professionals who have been selected for their proper accounting and finance education and experience, and who have satisfied previous employment and criminal background checks, drug-testing and passing of aptitude and personality tests.
Savings in Employer Payroll Costs and Human Resources Headaches. Yes, you would still have to train and guide our staff as with any new "employee", but they are not your "true" employees as you are paying our staffing firm and not the individual. As a consequence, your business will not be subject to employment taxes, benefits, or other personnel hiring costs. These are positive cost-reduction factors for your business, not to mention handling unemployment claims from former employees.
Customized, Bonded and Turn-Key. Whether just a few hours a day or a few days a week, part-time, as needed, or full-time, our staff are ready to go and work as part of your accounting team. They are also bonded. We can customize the hours to your needs, whether physically working your site or working remotely. Staff as you need, and as flexible as you want.
Provide Proper Financial Reports. Without the accounting educational and professional training, your business' financial reports may be incorrect. You may be recording income when a transaction may not be considered income. Or you may be recording an expense when it should not be deducted as an expense. In either example, your income may be higher or lower than what it really is, thus giving providing you with false and incorrect financial reports to assist you in your management decisions. Accurate financial statements are key to your business decisions.
Audit Prevention. The best prevention against any federal or state government audits is to have proper and timely accounting systems in place. Investing in qualified accounting staff is well-worth the return of investment when you weigh in against the extensive time, high costs, and emotional pressure from federal and/or state audits from the Internal Revenue Service, state, or other government agencies. Why worry about possible civil and/or criminal penalties?
Continued Professional Training. Our staff undergo periodic in-house training for improvement. Their knowledge and expertise are passed onto you – the client.
Most Unique Feature – Reviewed by CPA. Our most unique feature is that the staff's work may be periodically reviewed by a CPA. No other accounting and finance staffing services company provides this extra level of service (for additional fees) to assure that your accounting systems are operating effectively. Our CPAs may also be able to evaluate and see underlying accounting, tax, and business issues which can be communicated to your own CPA and/or attorney as a team.